Venue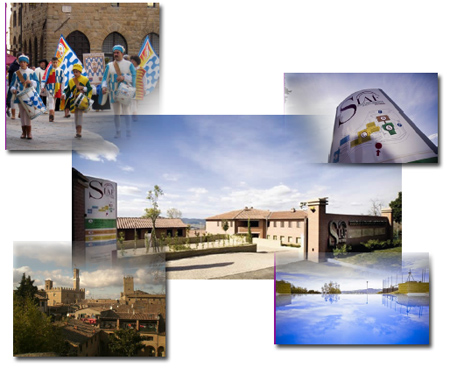 Idyllically situated in the Tuscan countryside offering a panoramic view of the sea, just a short distance from the historical hilltop town of Volterra, SIAF provides a congenial environment for intensive study courses, events, seminars, workshops and conferences.

The learning village was ideated and founded by the Scuola Superiore Sant'Anna in Pisa in collaboration with the Cassa di Risparmio di Volterra and the Foundation of the same bank and the support of the Region of Tuscany.

Volterra, an historical hilltop town with about 10,000 inhabitants, founded by the Etruscans in the heart of Tuscany three thousand years ago, rises 550 metres above sea level and affords a spectacular panoramic view of the Cecina valley and the Era valley.

A haven of Etruscan, Roman, Medieval and Renaissance art and architecture, Volterra is famous throughout the world for its age-old tradition of alabaster carving.

Volterra's charm not only lies in its historical patrimony but also in the undefiled surrounding countryside. Only an hour from Pisa, Florence and Siena with an ideal climate and timeless atmosphere.
Fee Registration
The workshop will be open to about 30 motivated and inspired students and researchers. Industrial professionals are more than welcome.

The summer workshop fee will be € 600 per participant for early bird registration (before July 1st). For later registrations, the fee will be € 625 up to the final registration deadline. This fee includes 4 overnight stays (arriving September 15th and leaving September 19th), full board accommodation (breakfast, lunch, dinner and breaks), welcome reception, all courses and handling material and an excursion to the historic village of Volterra.

Please make use of the registration form and fax it to ETH Zurich to complete the registration process.

ETH Zurich
Computer Vision Laboratory
Sternwartstrasse 7
CH-8092 Zurich
Phone +41 (0) 44 632 5283
Fax +41 (0) 44 632 1199